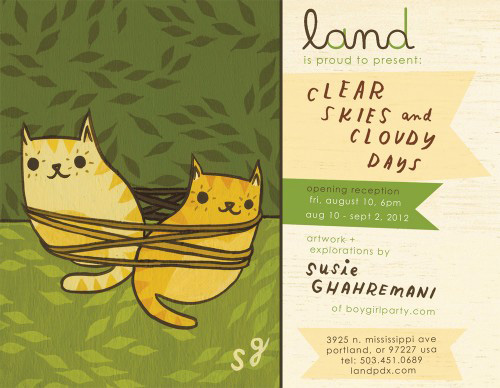 Preview Images (click to download):
Artwork © Susie Ghahremani / boygirlparty.com
Land presents:

Clear Skies and Cloudy Days


artwork and explorations by Susie Ghahremani of boygirlparty.com

in Portland, Oregon


August 10th - September 2nd, 2012
Opening Reception: Friday, August 10th, 6 - 9pm.*

* artist will be in attendance

at the Land Gallery
3925 N. Mississippi Ave
Portland, OR 97227 (map)
Susie Ghahremani, the award-winning illustrator renowned for her Boygirlparty® line of artwork and products, will be exhibiting at the Land Gallery in Portland, Oregon from August 10-September 2, 2012.
Ghahremani's exhibit will be her first solo show in the Portland area. Entitled "Clear Skies and Cloudy Days: Artwork and Explorations", the show will feature a range of experiments from "clear skies", the joyful, animal imagery traditionally found in Ghahremani's work, to "cloudy" subject matter such as vignettes of extinct species and loved ones lost at sea, offering a bittersweet side of her work rarely seen by the public. Created over the past three years, the artwork to be exhibited will include the artist's personal pieces, which offer a thematic break from her well-recognized commercial work.
The opening reception for "Clear Skies and Cloudy Days" will run on August 10 from 6pm to 9pm, and will include drawings, paintings, and mixed media such as cross-stitch. The artist, who is based in San Diego, will be in attendance and will personally install the work.
The city of Portland has long supported Ghahremani's career. She has shown at Motel, Pony Club and the Wurst Gallery and has created projects with local businesses such as Little Otsu and Badge Bomb. Ghahremani's handmade and licensed products can be found throughout Portland's independent shops such as Powell's, Presents of Mind and Land Gallery's own shop.
Ghahremani says, "Portland is a haven for artists and crafters; the creative energy here is contagious. Taking a tip from the 'Keep Portland Weird' mural in town, I felt this would be the perfect place to share my more experimental works with an audience that is willing to see something new from me. "

Links:
Susie Ghahremani / boygirlparty.com
Land Gallery
Buyolympia.com
Facebook Event
Yelp Event
Pikaland art previews
Neighborhood Notes write-up
Hungry Eyeball previews
The Art Cake write-up
Stitch School x-stitch interview

Share this page:
ABOUT ARTIST
SUSIE GHAHREMANI

Susie Ghahremani is an award-winning artist whose work combines joyful imagery with highly intricate hand-painted patterns. Her love of nature, music, and textiles come together in each painting and illustration, delivered with precise and whimsical detail in her stylized color palette. The Rhode Island School of Design (RISD) alumnus shows her work in art galleries internationally while frequently publishing editorial illustration and gift items for the mainstream market. Ghahremani's signature Boygirlparty® stationery collection is distributed worldwide. Her debut picture book, What Will Hatch?, with author Jennifer Ward, is forthcoming from Walker Books/Bloomsbury USA in 2013.

Visit her online at boygirlparty.com
ABOUT LAND GALLERY

Land Gallery is located in the historic Mississippi Neighborhood of Portland, Oregon. Run by the owners of the iconic indie shopping website buyolympia.com, Land Gallery features new, original artwork from a fantastic stable of upcoming and established independent artists.

Land Gallery is located at 3925 N. Mississippi Ave in Portland, OR, and is open daily from 10am-6pm.

Contact: [email protected]
 or (503)451-0689